Recent Reviews
I bought this as a couples thing or a thing we could do with our kids as a family. Our kids are 5 and 3 so it's a little mature for them, but we enjoy tinkering so I ordered it for that. I was hoping to get like a robot or catapult type thing, so I was a little disappointed to get Spin Art, but only because it's a medium I'm already familiar with. I wanted to work more on my building skills. But you do still have to put the kit together and it has an electrical component that I look forward to figuring out. The disc frame is wooden so it looks nice. Its reusable at the very least. Maybe I'll order another box sometime. Because it could be a fun kit. But I might order one specifically for robots rather than this more eclectic type of tinkerin. It is cool if thats what you are looking for.
My son is only 7 turning 8 next month but he loves this box! We tried the other box they have the kiwi crate? And he didn't like that one at all so we switched to Tinker crate and he loves it! He built an awesome drawing robot this month! Yay!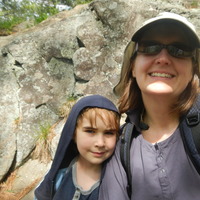 I got this box for my son last month - it is our first subscription box. This month he got a box with an automaton building kit that includes parts to also turn the box the kit came in into two more automatons! My son was so excited with the one he built, that he made a video and posted it on YouTube - called January Tinker Box. We will be extending our subscription for this box for sure.