Recent Reviews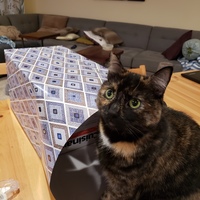 I wasn't a big fan of the one-size-fits-all style, or that the tights came in one mystery pattern. They were always soft, but three out of four of my pairs tore immediately or came torn.
I like the IDEA of this, but not the reality. The leggings I received (Dec, Jan, Feb) were not well fitting. I am short, about five two, but I didn't think that would be an issue because you pick your size. I chose small. The leggings I received were all way too long in the crotch to waist area. They came up very very high on my torso. They were also too long in legs a bit.The tags say "one size". I also only liked one print I received. The other was just ok and the last, the one I received today was just ugly. I'm not even trying them on. Black with a large pink floral print.
I signed up in Sept 2016, my first pair arrived the first week of October. Lets just say, I've never been upset about living in Wyoming until those arrived. They fit like a perfect glove, were a cute style for fall/winter, and are sooooo soft my husband can't keep his hands off me when I wear them. The sewing and construction of the leggings is sturdy and they have made it through the multiple washings quite well. The September leggings didn't quite hide my 'hail damage' but my husband swore he couldn't see it. They run a tiny bit larger then typical leggings, but I'd recommend ordering your usual size instead of a size up like I would on a majority of leggings online. The only downfall is that they (as well as most leggings) aren't quite warm enough for me to wear this winter. Hense, my upset of living in northern Wyoming where it snows from August until June haha. I put in a request for a lined legging option for us snowbirds. In short, they are a 5 star company offering a 5 star product.